Manually Update Default Reports
Update Default Reports Using a 2-Step Process
To find the Reports folder, click on the File tab in the top left corner of Calibration Control (our Calibration Management Software) and select "Open Files Folder", then click on the Reports folder to find all of the default reports. When a report is customized, make sure to create a custom name for the file, adding "_custom" or "_yourcompanyname" works best. During version updates for CC, default reports may be updated and the custom reports will be overridden if the original file name is not changed.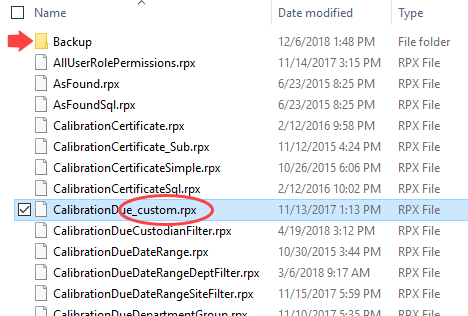 Steps to Update Default Reports
Delete the Default reports in the Reports folder.
Restart Calibration Control.
If the customized reports do not have a new custom name then they will be overridden with the new version update. To accommodate for this, Ape creates a backup folder within the Reports Folder and moves all of the old reports into that folder. This means that if the custom reports you had in the main Files Folder are gone, first check the backup folder and rename them before replacing.
The Reports, Labels, and Emails folders all use this method to update default reports.
Last Updated: 19 August 2019