No Label File Error
The label file could not be loaded
When attempting to print a label in Calibration Control (our Calibration Management Software), the following dialog will display when (a) there is a problem with the label drivers, (b) printer, or (c) the label file is missing.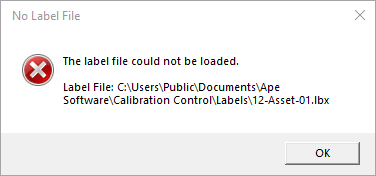 This situation most often occurs after users become accustom to their label printer functioning properly followed by a drastic computer change. The suspect changes include (a) new computers, (b) wiping hard drives and reinstalling the OS, (c) cleaning after a virus, and (d) installing or uninstalling other software.
The single problem in each of these scenarios is that the printer drivers are not reinstalled or not installed properly, as was previously accomplished.
Label Printer Drivers
Download and install the Brother label printer driver for your model. If you are using a label printer connected to the network (rather than your computer) or the label printer is connected to another computer, you will need to manually add the label printer to the Windows Devices and Printers.
P-touch Editor Software
If you can see your label printer enabled in the Windows Devices and Printers but you are still unable to print your labels, try installing the free Brother P-touch Editor Software.
If this still does not resolve your problem, contact Ape Software for assistance.
Last updated: 27 Feb 2017