Troubleshooting Label Printing
Label Print Failed
If you receive an error message window upon printing a label, you'll notice there are several error messages. The first will be the most likely cause but might not always be the most accurate. The Code Error message will show a very short description of the error. Finally, the System Error will show the most accurate description of the error, though it may require some research.
Take a screenshot of the error message to refer back to.
Eliminate the most likely cause by reinstalling the label printer drivers and/or disconnecting/reconnecting your label printer. Search for your specific label printer on Brother's support site to find the proper troubleshooting methods for your device.
Take a look at the Label Print Failed error message below and the different solutions to find one that works for you.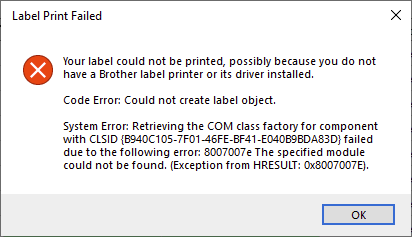 Solution 1
Some users have encountered this error after updating from Windows 7 to Windows 10. The most successful solution is downloading and installing these Brother label printer drivers: b-PAC3CCI Setup.
Solution 2
You may see a slight difference in the error message if you are using a Windows 7 computer and you may see there is an error with vcruntime140.dll. Downloading and installing the newest version of Microsoft Visual C++ Redistribution package has solved this error as well. You can find the latest supported Visual C++ downloads here: https://support.microsoft.com/en-us/help/2977003/the-latest-supported-visual-c-downloads
Get Ape Support
If you've tried all the solutions provided and you are still unable to print a label, email us and include the error message screenshot. We may have encountered the same error before and may have a quick solution for you or we can troubleshoot together with a call/screenshare.