Lost or Invalid Product Key / Lost All Records
Troubleshoot an Invalid Product Key or Lost Records
In Calibration Control (our Calibration Management Software), if it looks like some records are lost or that a product key is absent or no longer valid, the most common scenario is that there are multiple databases on your computer and you are currently connected to a new blank database. Therefore, the solution is to redirect Ape software back to the master database.
How It Happens
Network Database: The database has been moved to a common network location for multiple users, safety, security, and/or ease of backup.
Database Not Available: When launching Calibration Control, the software attempts to connect to the network database, but the network is down, paths are remapped, or permissions are changed. When the following dialog is prompted, you might quickly hit the [Enter] key to get past it, thereby unknowingly creating a new blank database in the default location on your computer's (C:) drive.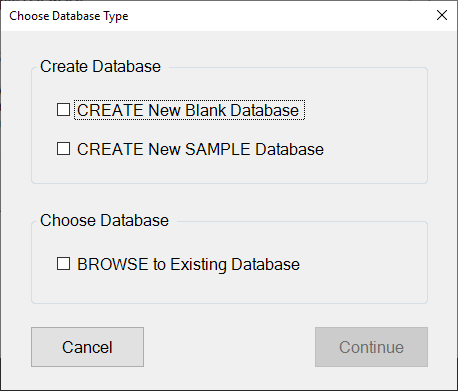 How to Fix It
Follow the instructions under the 'Add Additional Users' section of the Creating a Multi-User Environment help topic.
Related Help Topics
Last Updated: 8 July 2019