Departments Dialog
Use the Departments dialog to edit data related to Departments that appears in Calibration Control (our Calibration Management Software) Equipment Records.
Open Departments Grid
Display the Departments data grid by clicking on the Departments icon in the Common tab of the ribbon menu.

Department Dialog
Double click on any of the rows to open a record in the Department dialog.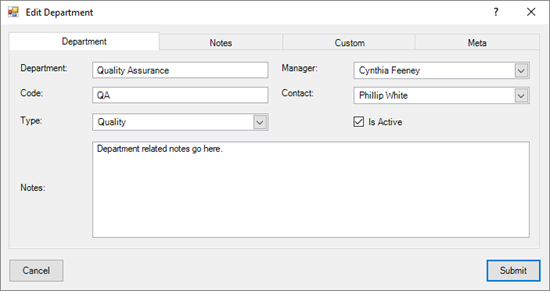 Department: The name of the department. This is a required field.
Code: A short identifier for the Department. This is a required field.
Type: The department type.
Manager: The Department Manager; Person to whom Calibration Control can send emails.
Contact: The Department Contact; Person to whom Calibration Control can send emails.
Is Active Checkbox: If checked, this shows that the Department Code is actively being used in the database.
Notes: A notes field for the department.
Tabs within the Departments Dialog
Within the Departments dialog there are 3 other tabs besides the main Department tab. The first tab is Notes, where notes related to the Department dialog can be added or linked from other records.
The next tab is Custom, which is a customizable tab to suit your company's needs. Edit the Custom tab by going to File then clicking on Options. Under the Admin tab click on Edit Form Labels.
The Meta tab shows a log of who created the Department record and when, as well as who updated the record and when. This tab is populated automatically for security purposes and is not editable.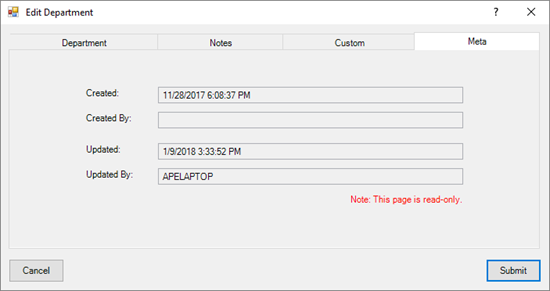 Last Updated: 10 January 2018