Hiding Equipment Records by Status
Use Equipment Status to Manage Visibility
It's a good practice to not delete equipment records in Calibration Control (our Calibration Management Software) even after the equipment is no longer in use. Keeping out-of-use equipment visible can clutter up the Equipment grid and Due Cal reports making them more difficult to use.
To help fix this problem, choose which status codes should be visible and which should be hidden.
Status Codes Visibility
Select the Codes grid from the Data Grids tab of the ribbon menu.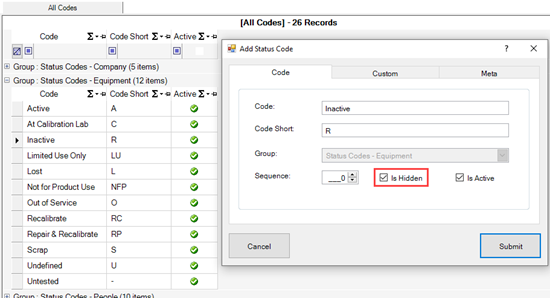 The status codes under the 'Equipment' grouping includes an [Is Hidden] checkbox that, when checked, hides the equipment records with this status code and they will no longer be visible in the Equipment grid or default Due Cal reports. Uncheck the checkbox to make the records with that status visible again.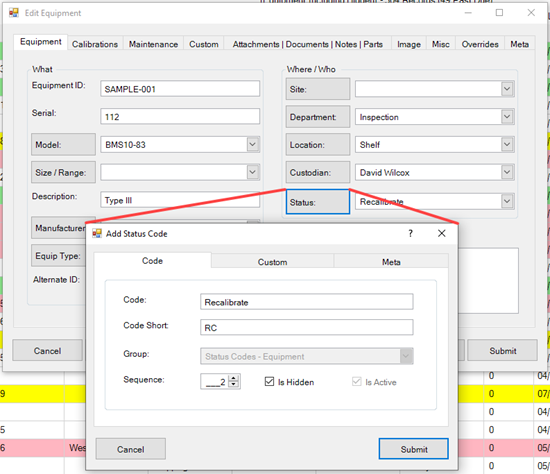 Select a record's status by using the drop-down field in that record's main Equipment dialog. Adding a NEW status code is easy, just click on the shaded Status box and create a new status code.
Show/Hide All Hidden Records
From the Equipment grid, right-click for the context menu and toggle the [All Equipment - Show Hidden] option to show or hide all records with a hidden Equipment Status. The Equipment grid will show an [Equipment Including Hidden] status as the header to remind users that there are records being hidden.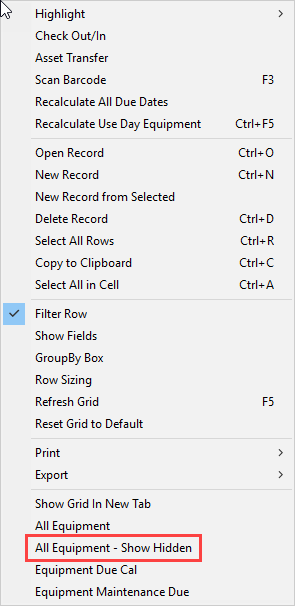 Last Updated: 26 June 2019