Calibration Control Folders
Each of the folders (Data, Files, Settings, & Web) are accessible from the File drop-down menu in Calibration Control (our Calibration Management Software).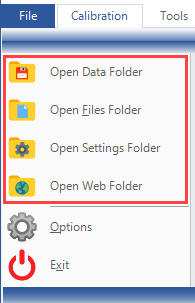 What They Do
The DATA Folder is the location where the access database (when using MS Access) resides. Visit the Move Database Folder help topic for steps on how to move the Data Folder to a new location.
The FILES Folder stores the Attachments folder and the Labels, Reports, and Emails template folders.
The SETTINGS Folder stores the program settings that Ape Software requires to function normally. This is the only File Folder that cannot be moved from its original location and every user must have read/write access.
The WEB Folder is the target location for publishing the reporting web pages.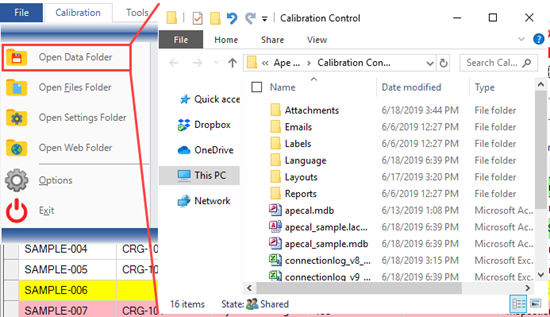 Settings Folder
The Settings folder is the only folder that cannot be moved. The location of the Settings Folder is:
Windows 7 & Higher: C:\Users\Public\Documents\Ape Software\Calibration Control
Although all Folders share the same default location as the Settings folder when the software is first installed, the other three Folders can be moved to different locations on the computer or local network for sharing and backup purposes. The location of the Files folder can be configured in program Options > Advanced tab > Folder & Path.