Program Options
Modify Application Settings
You can modify Calibration Control (our Calibration Management Software) program options by going to the File menu and selecting Options or access the Options dialog in the Utilites tab of the ribbon menu.

General Tab
First Day of Week: By default, Calibration Control uses the System defined first day of the week. Otherwise, you can define the first day of the week using the dropdown. This setting determines the due date for calibrations using the 'Week of' Frequency.
Due Date 'Week/Month of' Offset: When calculating the calibration due date for the 'Week of' and 'Month of' frequencies, the Calibration Due Date is calculated by adding the Week of/Month of units to the Last Calibration and then choosing the first day of the Current OR Next week/month.
Check for Program Updates: Calibration Control can notify you of available software updates on a Daily, Weekly, or Monthly cycle when the application is first opened. By default, you will receive daily updates.
Measurement System: Use the drop-down to switch the default measurement system between U.S. and Metric.
Equipment ID of Default Template: Enter the Equipment ID of an existing Equipment record to be used as a template when creating new Equipment records.
Unique Alternate Equipment ID: Determine whether Alternate Equipment ID's should be unique or not, or be unique within a given Site. Note that Equipment ID's are required to be unique.
Language: Select the language displayed. Changing the language requires a program restart. Alternatively, you may select a language for each specific User.
Label Printer: When multiple label printers are installed on a single computer, identify the default label printer in this field.
Start Screen: Select your default start screen when opening Calibration Control. By default and when no selection is made, the Equipment grid will be the start screen. To have no start screen, select "None" from the dropdown.
Do Not Copy Default Labels, Reports & Emails on Start: If any default labels or reports are missing, Calibration Control will add the missing files to your files folders. Check this box to prevent the action.
Use Active Equipment as Default for Asset Transfer: If this box is checked, any selected Equipment record will automatically be populated in the Asset Transfer dialog.
Dialog Font Size: Define the size of all dialogs with 0 being the default. You can also use negative values to shrink the dialog size.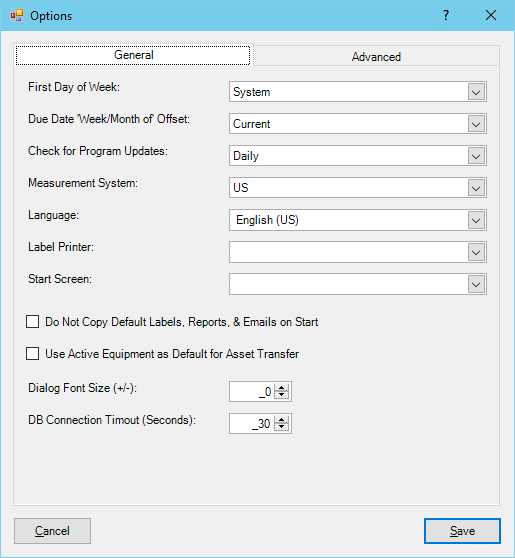 Advanced Tab
The Advanced tab is split up into separate dialogs for each category. Click each link below to learn more about each option.
* When using the sample database, this button will show "Refresh Dates in Sample DB" which will update sample calibration due dates to more recent dates.
Allow Multiple Equipment Browse Grids: When this option is selected, you have the ability to open additional equipment tabs at once.
Remember Grid Layouts: When this option is selected, your layouts for all grids are saved and stored as a layout file. When you sign back in to Calibration Control, your grid layouts will remain as you left them, otherwise, they are reset to default.
Show and Hide Fields in Grids: When this option is selected, you can right click any grid and select the Show Fields dialog which allows you to show or hide fields in the specified grid, otherwise, the Show Fields item will be greyed out and inactive.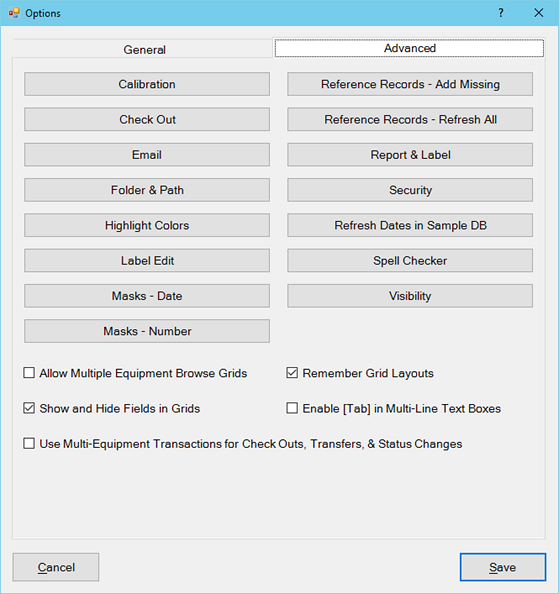 Last Updated: 13 August 2020