Asset Transfer Dialog
Change Site, Department, Location, Custodian, or Status
Transfer Assets quickly to new Sites, Departments, Locations, Custodians, or change the Status in Calibration Control (our Calibration Management Software ). Administrators can control which fields are shown by adjusting permissions in the Options dialog under the Security tab. Transactions made using the Asset Transfer dialog are automatically logged in that Equipment dialog's Notes tab.

Open the dialog by clicking on the Asset Transfer icon in the Tools tab of the ribbon menu. This dialog can also be opened directly from the Equipment grid by right-clicking on the Equipment record to be changed and selecting 'Asset Transfer'.
Use the Asset Transfer Dialog
First type an Equipment ID, Master ID, or Serial Number in the 'Equipment ID' box or select the [Use Scanner] button first when using a barcode scanner. Then select the desired fields for a new Site, Department, Location, Custodian, or Status and click [Validate], then the [Submit] button. Fields left blank will not be changed.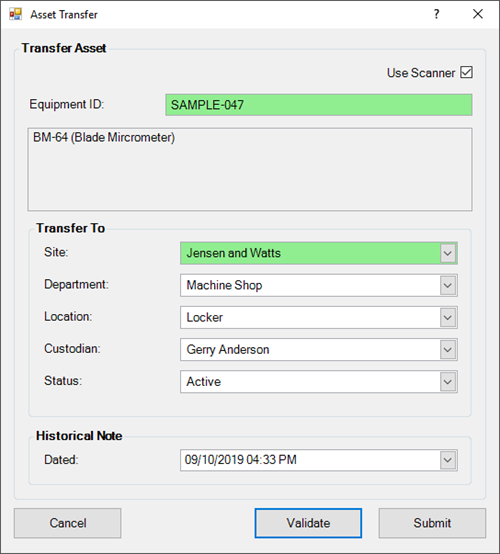 Last Updated: 14 August 2019