Access All the Label Fields
Understanding Labels Fields in Calibration Control
Understand and follow these guidelines to get the most out of printing labels with Calibration Control (our Calibration Management Software).
NEED TO KNOW:
Label Basics: Watch the label quick start video to cover the basics of label printing.
Folder Basics: Watch the video on understanding the Calibration Control folders.
Label Naming Rules:

All 'Asset' labels must have the word asset in the label name.
All 'Calibration' labels must have duecal in the label name.
All 'Calibration Not Required' labels must have CNR in the label name.
Note: These words (asset, duecal, & CNR) allow Calibration Control to identify the type of label.

P-touch Editor: The P-touch editor software that comes with P-touch printers (or download from Brother) is required to edit the 150+ labels that come with Calibration Control or to create custom labels.
Label Fields Available: All of the label fields below are available for custom calibration labels and asset labels.
Using Label Fields: Access the label fields below by using the P-touch Editor to change the Object Name of text or barcode objects of a given label.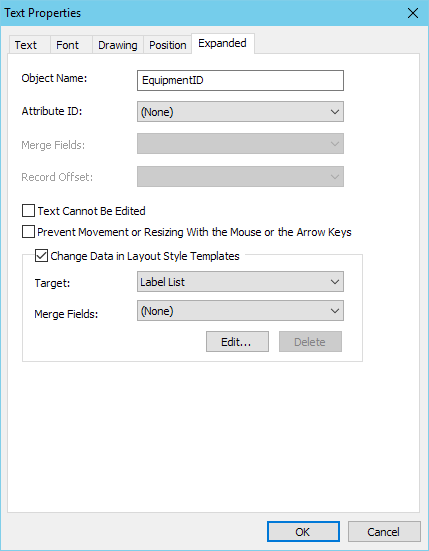 Sample Labels: Check out the sample labels for Calibration, Asset, and CNR (Calibration Not Required). They are a good resource for choosing which labels you want to use.
Equipment Label Fields
AlternateID
CalibrationDue
CalibrationLast
CertificateNumber
CheckedOutBy
CheckOutDate
CurrentUserFirstName
CurrentUserLastName
CurrentUserFullName
CurrentUserName
Custodian
Department
DepartmentCode
EquipmentCalCo
EquipmentCost
EquipmentID
EquipmentStatus
EquipmentStatusCode
Frequency
FrequencyUnits
IsStandard
Location
Manufacturer
MasterID
MasterIdBarcode
ModelDesc
MyCompany
Notes (equipment)
Owner
SerialNumber
SizeRange
StatusCode
StatusCodeDescription
TechnicianEquipment
TypeName (equipment)
Due Cal Label Fields
AsFoundName
CalibrationCalCompany
Humidity
TechnicianCalibration
Temperature
Last Updated: 19 August 2019