Report & Label Options
Modify your default Report & Label global settings to specific templates that better fit your company's standards within Calibration Control (our Calibration Management Software) in Options > Advanced > Report & Label.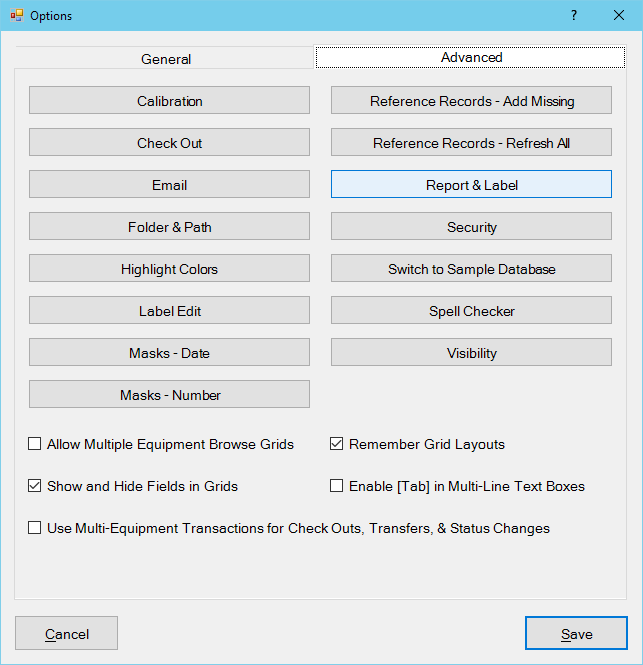 Set Default Reports
The Options Reports settings determine which report templates are used when printing a Due Cal report from the ribbon menu, as well as your default templates for the Cal Certificate, Worksheets, and more Reports for data records as described below.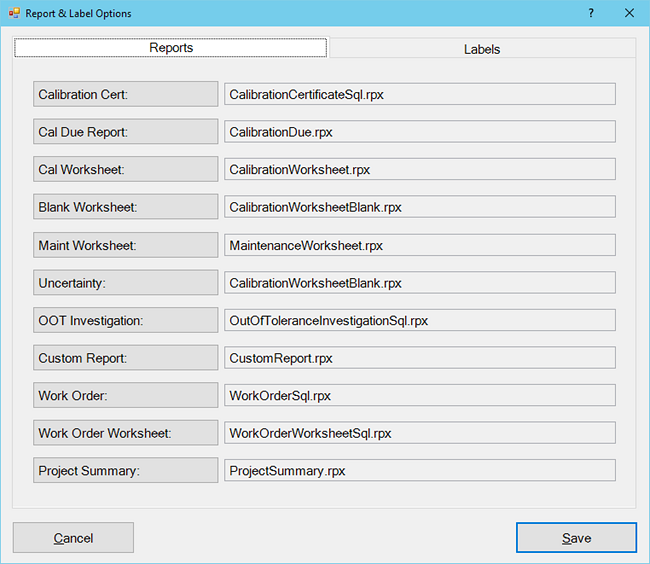 Calibration Cert: Template used when printing a Calibration Certificate for an Equipment record.

Note: Functionality of default template depends on database type. Select the template file name ending in Sql if you are connecting to a SQL Server Database.

Due Cal Report: Report template used when clicking the Calibration Due Report icon from the ribbon menu. Several default templates exist; preview all available Due Cal reports in the Print Menu.

Cal Worksheet: The Calibration Worksheet displays any Measurement Groups, Tolerances, and Nominals when the Equipment has Calibration history, or at least if a specific Measurement Template selected for that Equipment record.

Change default worksheet to display Steps if a Calibration Procedural Group is selected for an Equipment record.

Blank Worksheet: Without any Measurement Template or Calibration history, a Blank Calibration Worksheet prints the Equipment record data but contains empty lines for measurement data.

Maintenance Worksheet: The Maintenance Worksheet prints Equipment data, with a summary of frequency and technican or company if there is Maintenance History, and contains several empty lines for your own notes.

Uncertainty: Select a default template for printing an Uncertainty Budget report.

OOT Investigation: Designate an Out-Of-Tolerance (OOT) Investigation worksheet used when you have Equipment received for calibration that has an As Found Condition of OOT.

Note: Functionality of default template depends on database type. Select the template file name ending in Sql if you are connecting to a SQL Server Database.

Work Order: The Work Order report prints all populated data fields from the Work Order, including Approved By name and date.

Work Order Worksheet: The Work Order worksheet is available to print to help you get started on populating fields with any necessary information.

Custom Report: Custom report for a single Equipment record, which can print from the context menu in the Equipment grid.

Project Summary: (There is not a default Project Summary template created at this time; a placeholder template exists until one has been requested from an existing customer.)
More Reports Notes
You can copy and/or customize reports or labels to set it as your report/label as either global option or overriding particular records.

All reports can be edited or created using Calibration Control software's built-in Report Designer from the Tools tab of ribbon menu. Any customizations made to default templates should be reflected with a custom file name to avoid confusion or possibly overriding, (e.g.,"CalibrationCertificate_CompanyName.rpx", "CalibrationDue_Custom.rpx").

While the data reports can be previewed using the Reports Print Menu, the Cal Certificate, the OOT Report, as well as Cal or Maintenance Worksheets, involve specific data related to a single record, meaning these are the kinds of reports which can only be viewed by printing for a specific Equipment record. Similarly, the Work Order Worksheet and Report can only be previewed by printing these from the Work Orders grid or open record.
Default Labels
Default Equipment Labels: These settings determine which label templates are used by default when using the [Print] buttons for 'Asset tags' or 'Calibration labels' from the Equipment record or System dialog. (Default label templates can be overridden in a specific Equipment, Equip Type, or Model record.)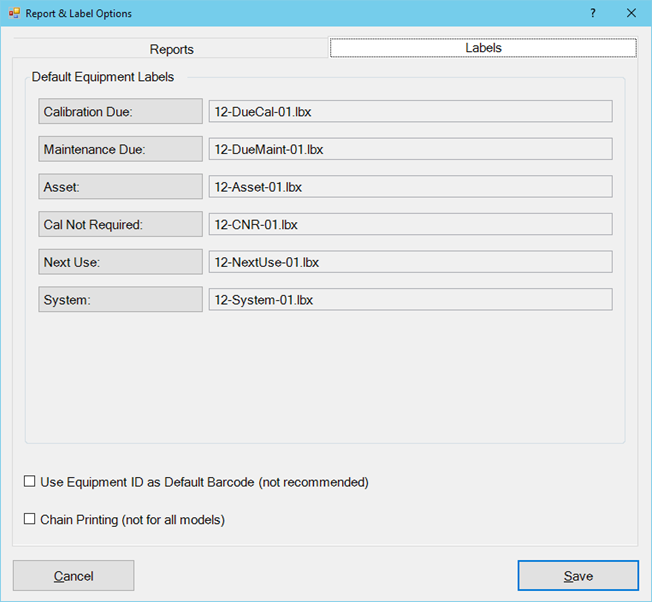 Calibration Due: Prints when the calibration frequency generates a due date and uses labels with the 'Due Cal' string in their file name.

Asset: File templates are identified as Asset labels by the 'Asset' string in the file name.

Cal Not Required: Prints in place of the Calibration Due label when the Calibration Frequency is 'Cal Not Required' and is identified as CNR label by the 'CNR' string in the file name.

Next Use: Print in place of the Calibration Due label when the Calibration Frequency is 'Next Use' and the labels are, too, identified by a 'CNR' string in their file name.

System: Prints with information relating to an Equipment System.
More Label Notes
All labels can be edited using the Brother P-touch Editor software that comes free with your Brother P-touch label printer.

File Names: The number at the beginning of the label template file name indicates the width of the label tape in millimeters. The number at the end of the file name indicates the sequence. Any custom labels should be given a unique sequence.

For more information regarding labels, custom label templates, editing with P-Touch Editor, please review our Label Fields help topic.
Last Updated: 06 June 2022