Connect to SQL Server Database
Configure Calibration Control to Connect to a SQL Server
After creating the Calibration Control database on your SQL Server, follow these instructions to connect Calibration Control (our Calibration Management Software) to your SQL database.
Start Calibration Control
When running Calibration Control for the first time, select MS SQL Server as the database type.

To connect to your database, select Custom DB. Alternatively, we offer cloud hosted databases (sample data or blank) that you can easily connect to without further configuration.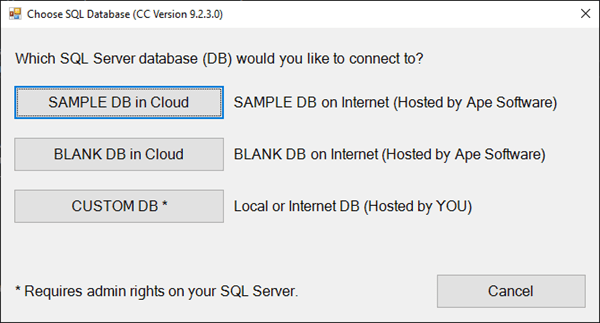 If you are already connected to a SQL Server database or an MS Access database, you can select the 'SQL Connect' option from the Utilities tab in the ribbon menu.

Enter the fully qualified name into the Server Name field, confirm the database name, and select your authentication method. Click the Test Connection button to confirm that you have entered the correct connection information.
The Remember Login checkbox is automatically checked. If it is deselected, you will be prompted to verify your server authentication method the next time you start Calibration Control. Once your connection test is successful, click the Submit button.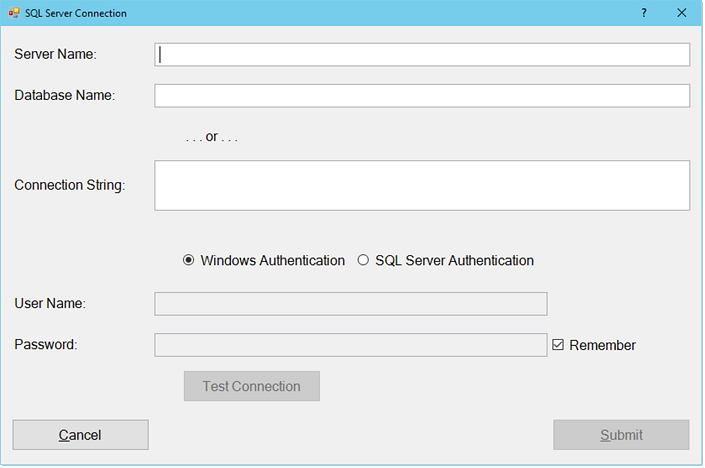 Restarting the Process
This entire process creates a configuration file in the Settings folder on the computer where the application is running. If a mistake is made during the process, the best way to restart from scratch is to delete the config file and start over. You can do this easily by holding down CTRL while starting Calibration Control (Version 9.1.2 and later).
You can also delete the configuration file manually by closing the application and opening the Settings folder, which you can find at this path on your computer: C:\Users\Public\Documents\Ape Software\Calibration Control
Then, delete the general.config file and restart Calibration Control.
Connection Troubleshooting
If needed, refer to the help topic on Troubleshooting a SQL Server Connection.
Last Updated: 28 July 2020