Highlight Colors of the Equipment Grid
Understanding the Highlighted Colors for Equipment Records
The Equipment Grid can use highlight colors on the rows of Equipment records to help users visually identify certain aspects about the Equipment records while browsing in the Equipment Grid. Default colors can be customized.
Default Highlight Color Coding:
Green : Equipment marked as Calibration Standards (and not yet due for calibration)
Yellow : Equipment DUE SOON based on Reminder Lead Days
Pink : Equipment PAST DUE its next date for calibration / maintenance
Gray : Equipment Received for Service / Calibration
Red : Equipment Received Out of Tolerance / Calibration failed on receipt
Showing/Hiding Colors
Turn on or off visibility of highlight colors by right-clicking for the context menu in the Equipment grid, and toggling any of the five selections in the 'Highlight' options.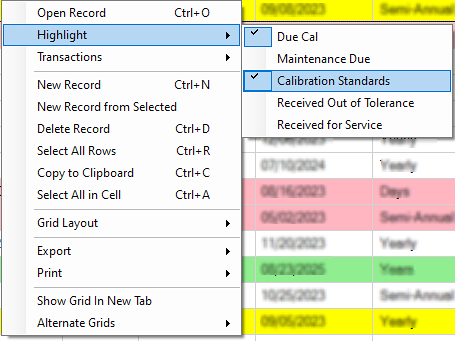 Define Highlight Colors
Manage custom highlight color coding under the Advanced tab of Program Options dialog.
Change the highlight colors to something that makes more sense for your organization, or click the [Reset] button to restore the default colors.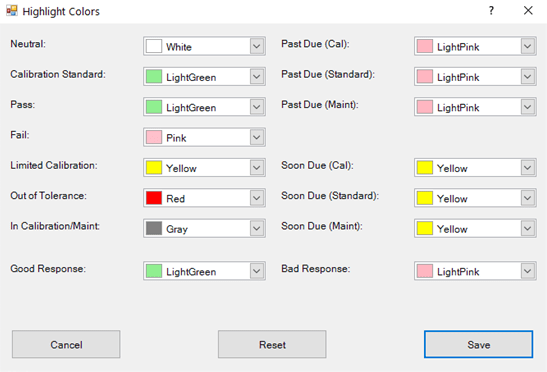 Pink = 'Past Due' Yellow = 'Calibration / Maintenance Due Soon' Green = 'Calibration Standard'

Red = 'Calibration Failed on Receipt' Gray = 'Received for Calibration'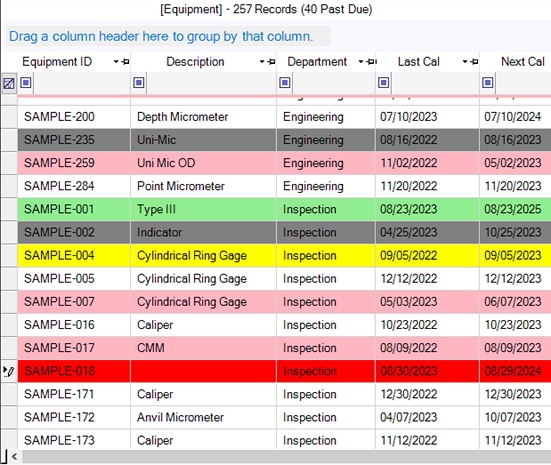 Reminder Lead Days Highlight
Equipment not yet past the calibration or maintenance due date, but coming "due soon" are highlighted Yellow. Due soon is defined by the Reminder Lead Days field in the Calibrations tab of the program Options dialog. The default setting for Reminder Lead Days is 30-days notice.
Calibration Standards Highlight
Equipment marked as Calibration / Test Standard are highlighted Green until they are Past Due or Soon to be Due Cal. Identify Equipment records as Standards by marking the 'Is Calibration / Test Standard' check box in the Calibrations tab of the Equipment dialog.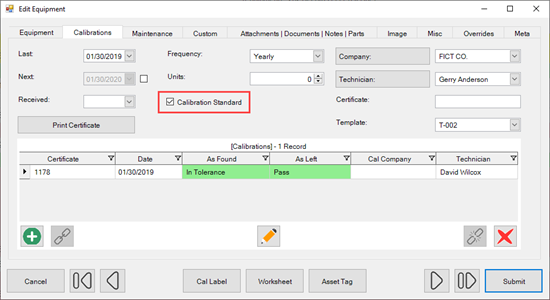 Received Out of Tolerance Highlight
If any of the past calibrations of a given Equipment have an 'As Found' status of Out of Tolerance (OOT), the record is highlighted red in the Equipment grid. Remove the red highlight of Equipment records by marking the 'OOT Investigated' checkbox within the Equipment Calibration Event record.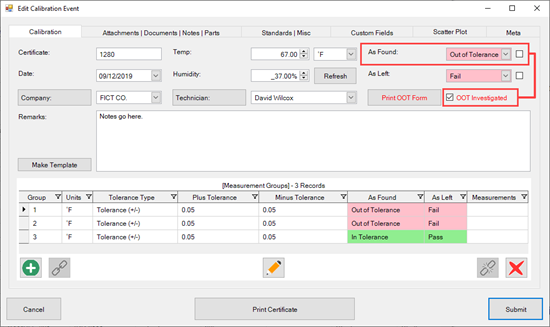 Received (for Service) Highlight
Equipment records with a Received Date field populated is highlighted gray by default in the Equipment Grid. See how to use the Status Change feature dialog to automatically mark Equipment as "Received" by a specific status code.

Last Updated: 11 May 2021