Highlight Colors of the Equipment Data Grid
Understanding the colors in the browse grid
The Equipment Browse Screen in Calibration Control (our Calibration Management Software) currently uses four colors to identify 'past due' (pink), 'calibration due soon' (yellow), 'calibration standard' (green), and 'calibration failed on receipt' (red).
Showing/Hiding Colors
Show or hide highlights by right-clicking in the Browse Grid and toggling any of the three options in the Highlight section.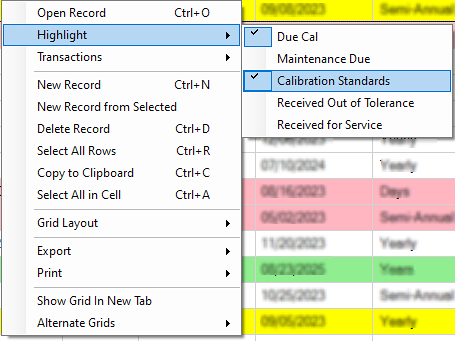 Highlight Past Due
Equipment records with a Next Cal date less than the current date are highlighted Pink. Records marked as Calibration / Test Standards (usually Green) are also marked as Pink when they are Past Due.
Equipment records not past due but "due soon" are highlighted Yellow. Due soon is defined by the Reminder Lead Days field in the Calibrations tab for the Options dialog.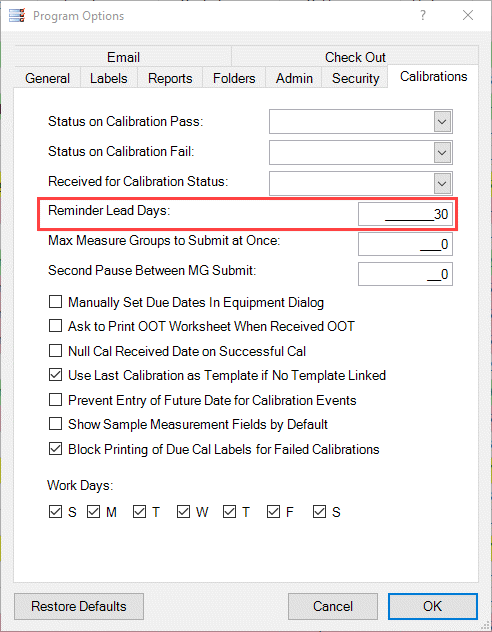 Highlight Standards
Equipment marked as Calibration / Test Standard are highlighted Green unless they are also Past Due or soon to be Due Cal. Mark Equipment as a Standard by checking the 'Is Calibration / Test Standard' check box in the Calibrations tab of the Equipment dialog.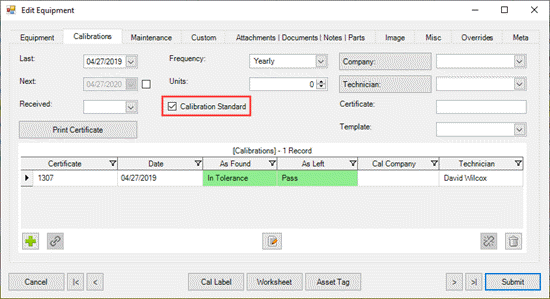 Highlight Received Out of Tolerance
If any of the past Calibrations of a given Equipment have an As Found status of Out of Tolerance (OOT), the Equipment will be highlighted red in the main Tool Browse grid.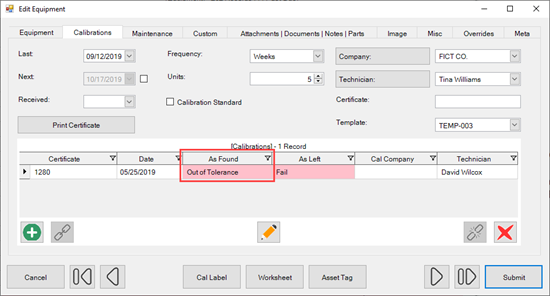 Remove the Red highlight of an Equipment record by marking all of the Calibration Events with an 'As Found OOT' status as 'OOT Investigated'.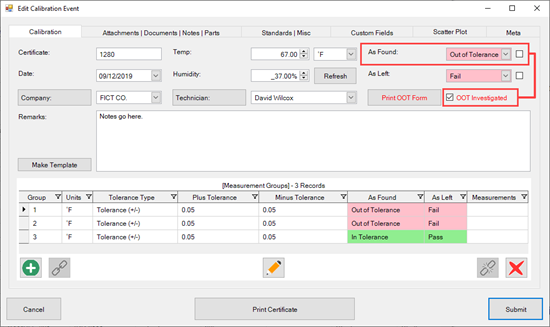 Last updated: 11 July 2017