Required Fields
Available in Version 9.1 and higher, you can define which dialog fields must require data input.
Required fields in a dialog are highlighted light pink (by default) when the required field is empty or blank, and highlighted light green (by default) once the required field is populated. An error message will display when a required field is missing data when you attempt to save that record. Follow these instructions to set up your Required Fields.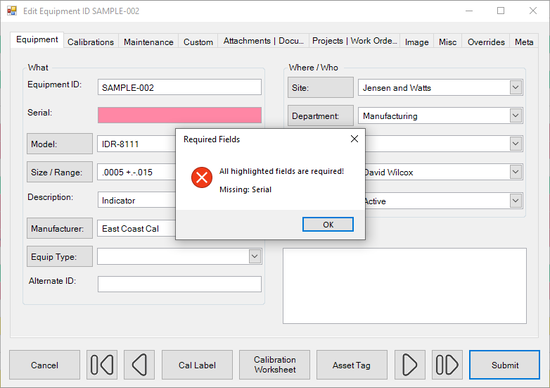 Make Procedural Groups feature Visible
By default, the Procedural Groups grid is hidden from the toolbar. You'll need to make it visible by going to:
File > Options dialog > Advanced tab > Visibility > Data Grids tab
Un-check the checkbox for Procedural Groups in order to make the feature visible. Restart Calibration Control to see the Feature Visibility changes reflected in the application.
Create a New Procedural Group
Open the Procedural Groups grid (located under the Data Grids tab in the Work Flow section) and add a New Record.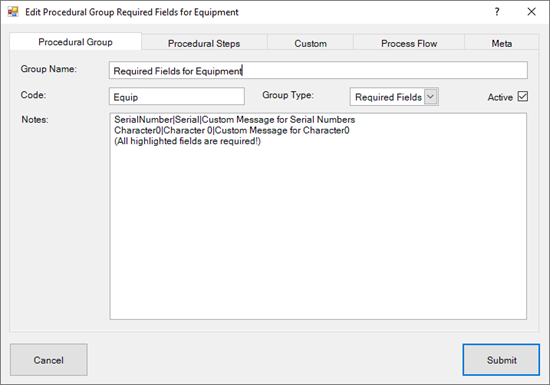 Group Name: Enter a unique Group name (i.e. Required fields for Equipment)
Code: The Code field is where you will enter the actual name of the dialog. Below are some dialog names for your reference.



Equip
EquipmentSystem
EquipmentType
Calibration
MeasurementGroup

Attachment
Document
Note
Department
Person




Group Type: Required Fields
Active: Ensure the Active checkbox is marked.
Notes: This is where you'll add your required field(s) information. The syntax for a required field is:

Field Name|Custom field name|Tooltip message
(Custom error message)



Field Name: This is the actual field name that is in your database. You can open up your database to find the specific field name. Below is a list of some Equipment dialog field names for your reference:



SerialNumber
ModelNumber
ModelDesc
SizeRange
ManufacturerGuid
EquipmentTypeId
AlternateId

CompanySite
DepartmentGuid
LocationGuid
Custodian
StatusGuid
CertificateNumber
Technician




Custom Field name: This custom field name will be used in your error message instead of the actual field name.
Tooltip message: Optional. This message will appear when hovering over a required field.
Note: You can add more than one required field, by adding required fields on the next line.
Custom error message: Optional. You can add a custom message that will appear above the default error message when a user attempts to submit a form with a missing required field. You can do this by adding an additional line with your message inside parantheses.

Custom Highlight Colors
The Required fields feature uses Highlight colors to indicate whether a required field has been filled out. By default, a required field is highlighted light green when it has a value or light pink when it is empty. Optionally, you can change these colors in Program Options > Advanced tab > Highlight Colors > Good Response & Bad Response.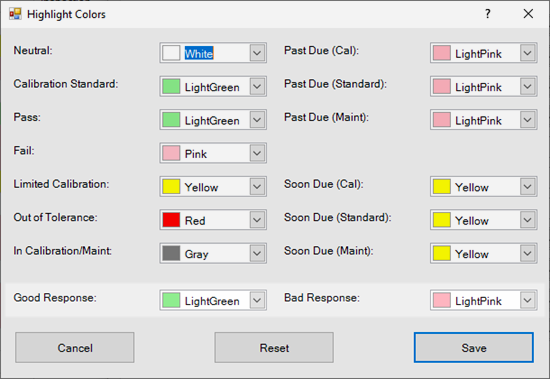 Get Ape Support
If you need assistance setting up the Required Fields feature, contact us and we can do this together.