Update a SQL Server Database
Update an Ape Software SQL Server Database
Use these instructions to update the database structure of your Calibration Control (our Calibration Management Software) database installed on your SQL Server 2008 R2, 2012, or 2014.
Before beginning, ensure you are using SQL Server Management Studio and you are signed in to your SQL Server with enough permissions to create and update databases and their objects (e.g., system admin). Your IT Group may need to perform the update.
All of the SQL files you will need to update your database reside in the SQL Tools folder under the CC program folder located at Program Files\Ape Software\Calibration Control.
Before attempting to update your apecal database protect your database with a back up by right-clicking on the database, selecting Tasks, and then selecting Back Up and following the dialog instructions.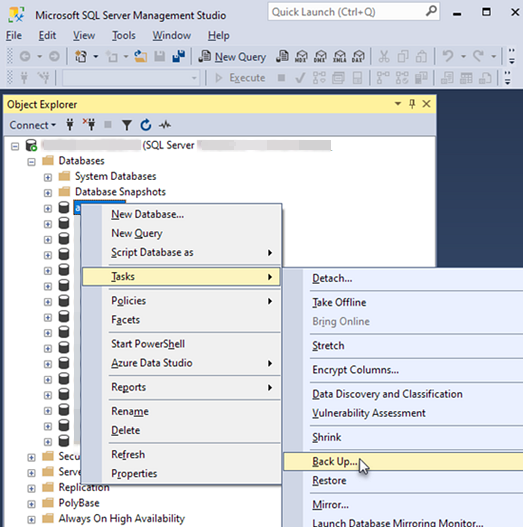 Determine the current database structure version by selecting records from the dbo.tblDBVersion_DO_NOT_EDIT table. There should only be a single record.
If you do not have a StructureVersion field in the file name, use the following table as a guide to interpret the dbo.tblDBVersion table and how to choose the appropriate sql_update SQL file to begin with:
| | |
| --- | --- |
| Indication | Database Version |
| dbo.tblDBVersion_DO_NOT_EDIT table does not exist | 1 |
| Rev = 1.1, 7.0, 7.0.1, etc. | Rev = Version |
| Rev = DoNotEdit | Use StructureVersion field |
| StructureVersion = 15 | 15 |
Apply the sql_update SQL files in their sort order beginning with the version indicated by the DbVersion table (above). For example, if the Rev field of your database equals 7.0.1, then begin with file sql_update_04 (pgm ver 7.0.1 to 7.2.0).sql (update from 7.0.1 to 7.2.0). If the DatabaseVersion equals 24, then begin with sql_update_10 (db ver 24 to 30).sql (file 10).
sql_update_01 (pgm ver 1 to 1.1).sql (read as version 1.0 to 1.1)
sql_update_02 (pgm ver 1.1 to 7.0).sql (same as above)
sql_update_03 (pgm ver 7.0 to 7.0.1).sql
sql_update_04 (pgm ver 7.0.1 to 7.2.0).sql
sql_update_05 (pgm ver 7.2.0 to 7.2.2).sql
sql_update_06 (pgm ver 7.2.2 to 7.2.5).sql
sql_update_07 (pgm ver 7.2.5 to 7.2.5.8).sql
sql_update_08 (pgm ver 7.2.5.8 to db ver 15).sql (read as program version 7.2.5.8 to database version 15 - new system)
sql_update_09 (db ver 15 to 24).sql (read as database version 15 to 24)
sql_update_10 (db ver 24 to 30).sql
sql_update_11 (db ver 30 to 31).sql
sql_update_12 (db ver 31 to 38).sql
sql_update_13 (db ver 38 to 39).sql
sql_update_14 (db ver 39 to 40).sql
sql_update_15 (db ver 40 to 41).sql
sql_update_16 (db ver 41 to 42).sql
sql_update_17 (db ver 42 to 43).sql
sql_update_18 (db ver 43 to 46).sql
sql_update_19 (db ver 46 to 51).sql
Open each file with SQL Server Management Studio and click the [! Execute] button to apply the changes until you finish with the final SQL file. Ensure that none of the text in the SQL file is highlighted when the [! Execute] button is pressed because this will run only the highlighted text.
If you need help, contact Ape and we can setup a screen share and do this together.
Last Updated: 8 Feb 2017