Users
Creating a User
Select the Users icon under the Utilities tab in the ribbon menu and create a new User record by double-clicking in the gray area or right-click for the context menu and choose [New Record].
User Tab
The only required fields are 'User Name' and 'Password'. When creating a password, select from the various checkboxes below the password field. By default, the password will be marked as Temporary and the new user will be marked as Active.
If a Person record already exists for this User, select that record in the Person dropdown.
You can choose a language for the user in the Language dropdown. The language is unique to each user.
Roles
In the Roles section, select a role for this User. To view the Permissions each role has by default, go to the Permissions grid located in the Utilities tab. Users with No Role (read-only rights) are free of charge.

In addition to the user's role, selecting Terminal User will allow the user to connect to Calibration Control's Terminal Mode but the user will NOT be allowed to use the full version of Calibration Control.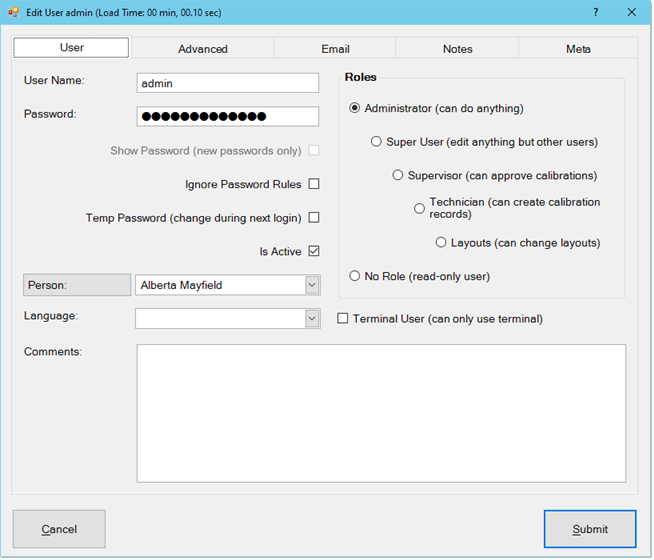 Advanced tab
Lockouts
Here you can Remove Lockouts, view the number of failed log in attempts and the last locked out date.
Logins & Password
Calibration Control keeps track of the user's last log in date and the number of log ins since the user record was created.
Domain
A Windows User name can be used instead of a username and password.
Advanced Skills
In this section, you can give users the ability to edit SQL statements or HTML in the software (i.e. Auto Emails & Dashboard Charts). By default, these checkboxes are not selected.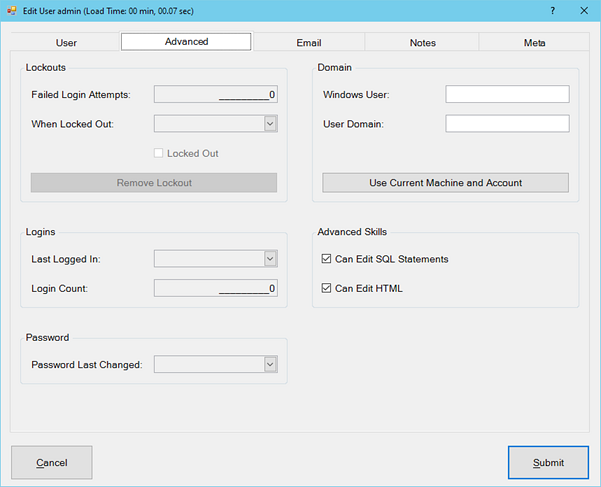 Notes Tab
Add or Link Note records to each User record.
Last Updated: 11 June 2020