People Dialog
Use the Edit Person Record dialog in Calibration Control (our Calibration Management Software) to edit all information related to People fields in Calibration Control Equipment Records. Change the name of any field to continue using words that make sense to your organization.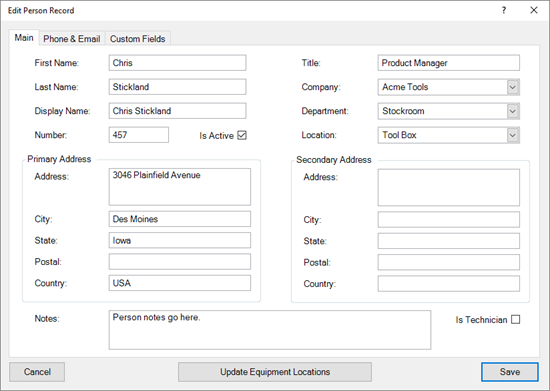 First Name/Last Name: First and Last Name of the Person. These are the only required fields for a new Person record.
Display Name: Autofilled by First and Last Name fields.
Employee Number: The Person's unique company ID.
Is Active: Select whether or not the Person 'Is Active'.
Title: Enter the Person's Title.
Company: The Company the Person is currently working for or representing.
Department: The Department the Person is currently assigned to in a Company.
Location: The Location within the Department where the Person is currently located.
Primary and Secondary Address: Enter the Person's address(es).
Notes: Like the user fields, use the notes field for whatever purpose your team needs.
Phone & Email Tab Fields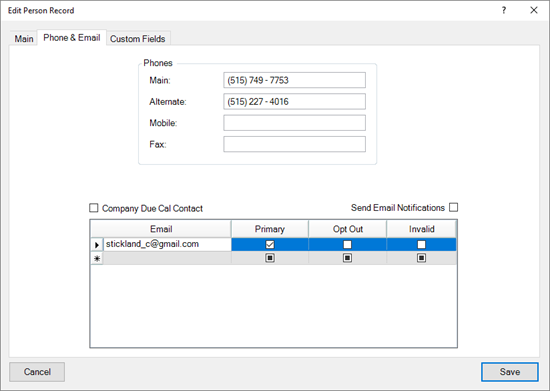 Phones: Enter the Person's Phone and Fax numbers.
Email: Enter Email addresses related to the Person. Designate each email by Primary, Opt out, or Invalid Boolean fields. Select the Boolean Field to 'Send Email Notifications' and to designate this Person the 'Company Due Cal Contact'.
Custom Field Tab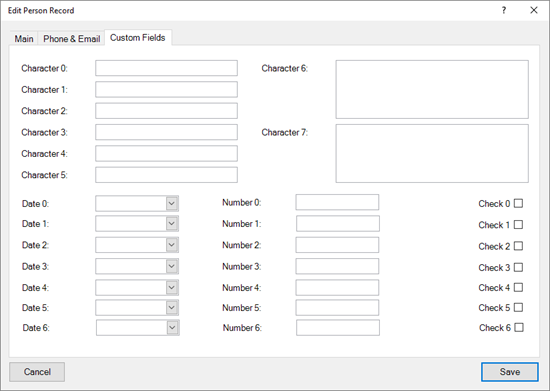 Here's a lot of extra fields in text, date, number, and check format that you can rename and use for whatever you need. Visit the Change Field Names help topic to learn how to edit these fields.
Last Updated: 12 February 2018