People
Find the People grid in the Data Grids tab of the ribbon menu. Use the Edit Person dialog in Calibration Control (our Calibration Management Software) to edit all information related to the People you interact with for your company and link them to other records using the panel grids.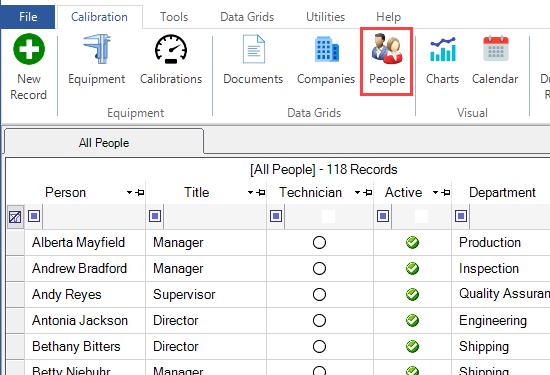 Person Dialog
Add information to a Person record:
Salutation/First Name/Last Name: First and Last Name of the Person, Salutation when applicable. These are the only required fields for a new Person record.
Display Name: Auto-filled by First and Last Name fields.
Title: The Person's job title, if available.
Department: The Department the Person is currently assigned to in their Company.
Location: Use this drop-down when applicable.
Status: The Person's status within the company they work for.
ID Number: The Person's unique company ID, if applicable.
Is Active: Select whether or not the Person has an active account in your records.
Primary and Alternate Addresses: The Person's address(es), if applicable.
Notes: A blank space for notes related to the Person record.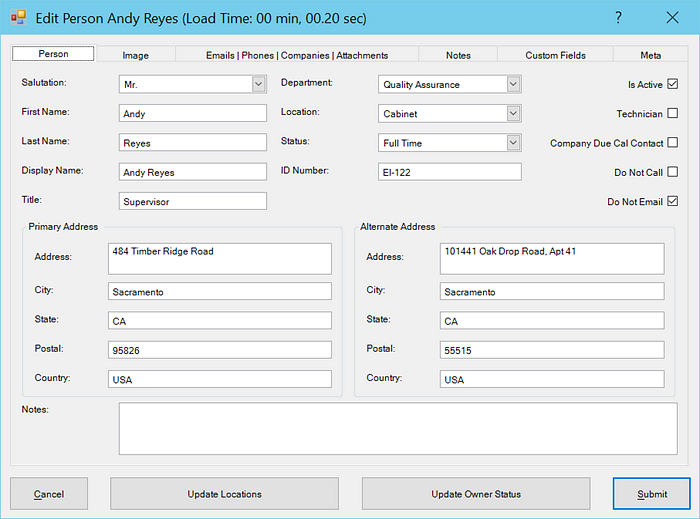 Update Equipment Locations
Click on the [Update Locations] button at the bottom of this dialog to synchronize the Department and Location fields of all Equipment records to include the selections chosen for this Person.
Grids Dialog
Email Addresses: Add or link an Email address to a person record.
Phone Numbers: Add or link phone and Fax numbers to a person record.
Companies: Add or link a person record to an existing company record.
Attachments: Add or link attachments to a person record.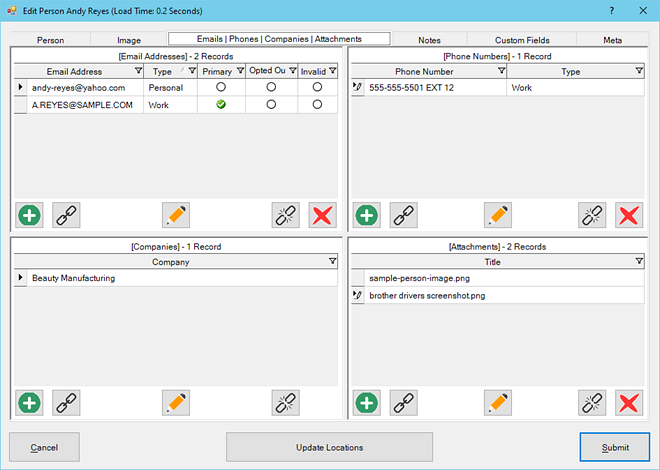 Other Tabs
Notes Tab: Add and link Notes to a Person record.
Custom Fields Tab: Custom fields are available for adding Characters, Dates, Numbers, and Check boxes. Visit the Change Field Names help topic to learn how to edit these fields.
Meta Tab: This is a READ-ONLY information tab used as a reference to view which user created the record and which user was the last to edit it, including the dates and times these occurred.
Last Updated: 16 August 2019