Auto Notify Utility
Send Emails and Desktop Notifications Automatically
Configure one or several Notification Events for scheduled reminders through email, desktop, or website publishing in Calibration Control (our Calibration Management Software ). Send email notifications to specific groups of people such as Equipment Custodians, Technicians, Owners, Department Managers, etc. Receive a desktop notification of Equipment due for calibration. Note: Auto notify only needs to be set up on ONE computer in order to avoid duplicate emails.
Email
Before sending Emails Automatically, you will need to add your email settings in the Options dialog . The database will need additional related data discussed at the bottom of this page.
Start the Auto Notify utility from the Calibration tab in the ribbon menu.
Auto Notify Grid
Currently, 9 Auto Notify events are defined.
DueCal_[Person]: Auto email notifications for the Person identified after the "DueCal_" string.
DueCal_Desktop: Auto desktop notifications on the current computer.
Website_General: Auto publication of a simple website listing all equipment in Department groups. Set the publish location in the Folders tab of the Options dialog.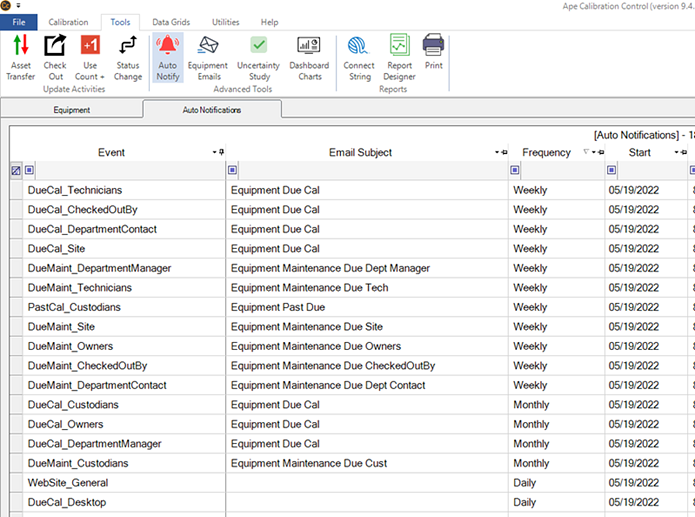 Auto Notification Files
These four fields are only used for Email Notifications . . .
Email Template: Defines which HTML file is used as the template for the email.
Signature File: Defines which HTML file is used as the email signature.
Email Subject: The text that appears in the Subject line of the Auto Email Notifications.
BCC: Whenever an Auto Email is sent, a copy of the email can be sent to an additional email or list of emails. If more than one email in added to the BCC field, separate those emails with a comma, semicolon, or a hard return.
There is one live fire button and one test button . . .
Send Message(s): Pressing sends all the email notifications to the defined Person group (e.g., Custodian, Technician, Manager), displays the desktop notification, or creates the default website.
Send Test Message(s) to BCC: Sends the email notifications to the email(s) listed in the BCC field only as a test run.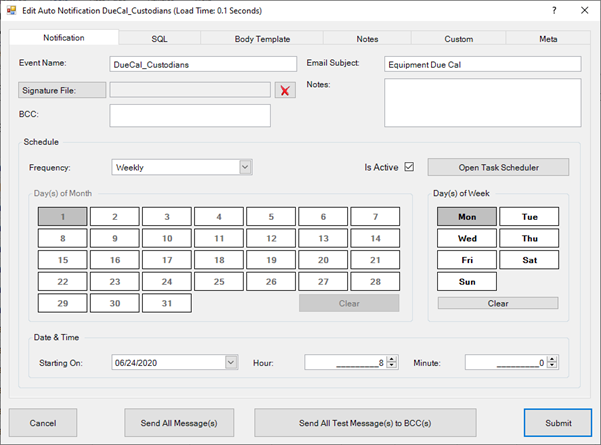 Setting a Schedule
Set the repeat frequency (How Often), time of day (Date & Time), and if the Event is Active.
Related Data for Email Notifications
The Email Notifications require related data in the following tables:
People Fields in Equipment Record: Identify the Custodian, Technician, Owner, or Checked out By fields so Calibration Control knows which equipment is related to who.
Department Field in Equipment Record: Identify the Department in the Equipment dialog and then, in the Department record, identify the Manager and Contact people.
Site in Equipment Record: Identify the Site (e.g., Customer or Company Site) in the Equipment record and then, in the People records, connect them to Companies.
Emails in People Records: Ensure the People identified in other locations (e.g., Equipment or Department records) have valid email addresses and that their Send Email Notifications option is checked.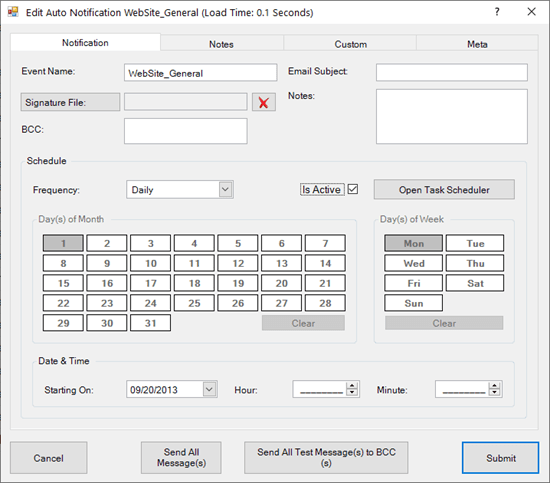 Take a look at the SMTP Test Procedure help topic if you are having difficulties with sending Auto-Notify emails.
Last Updated: 14 August 2019