Custom Barcodes
Use Unique Barcodes Already on Equipment
If Equipment already has a unique barcode (e.g., asset or serial number), that number can be entered into its equipment record and used to locate and open its record. Make sure that this barcode is only used once per equipment record because there is no way for Calibration Control (our Calibration Management Software ) to differentiate between two equipment records with the same barcode number.
Custom Barcode Field
Open an Equipment record and select the Misc tab. Enter the unique custom barcode in the 'Barcodes:' field in the Miscellaneous category (left side). The most accurate way of entering a custom barcode is to place the computer's cursor into the custom Barcode field and scan the barcode into the field.
Barcode Scan Dialog
Close the Equipment dialog, returning to the Equipment grid. Press the [F3] button to bring up the following dialog. When this dialog (below) is visible and a barcode is scanned, Calibration Control will know to look in the custom barcode field in addition to the default field.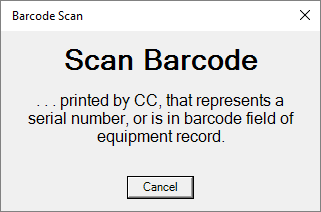 Last Updated: 14 August 2019