Equipment Dialog
Edit Equipment Records
Use the Equipment dialog to edit all data related to the tool / test equipment. Change the name of any field to continue using words that make sense to your organization. If the field name* is in a shaded box, click on it to add new values in the drop-down list of available values (combos).
Equipment Dialog Fields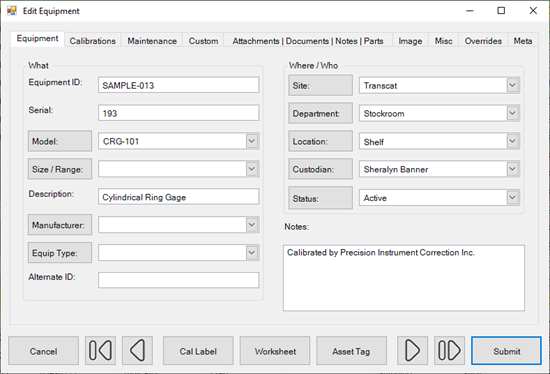 Calibrations Tab of Equipment Record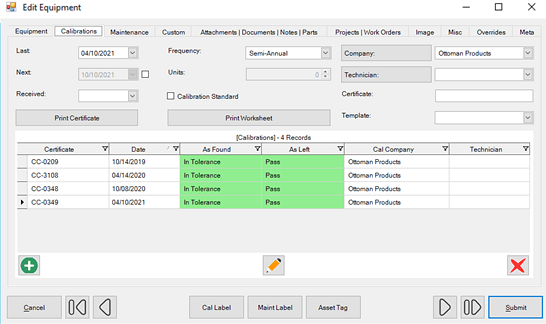 Maintenance
Use the Maintenance tab to create or link maintenance requests to an Equipment record. Keep track of Equipment Maintenance Due with grid highlight colors and/or view the Equipment Maintenance Due grid (right-click the Equipment grid or press F12). The Maintenance Events are formatted as note records for routine inspections cycles. Set a Frequency, enter Notes, select Results (e.g., In Tolerance/Passing), assign a Technician or Company, etc.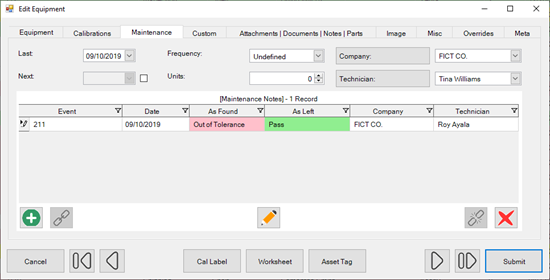 Attachments|Documents|Notes|Parts Tab
Use these panel grids to add, link, and edit the Attachments, Documents, Notes, and Part Numbers records related to an Equipment record.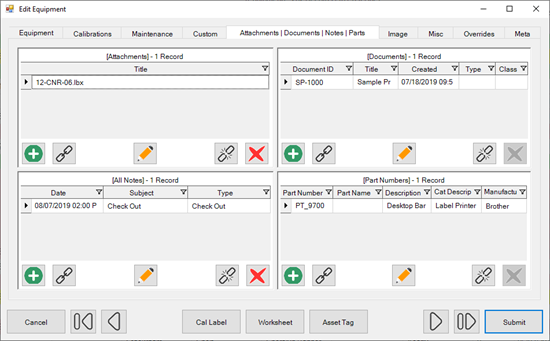 Misc (Miscellaneous) Tab
The Miscellaneous tab contains groups of data that help organize information related to the Equipment record.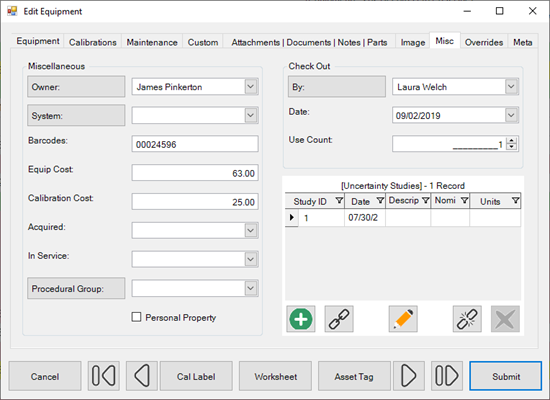 Other Tabs in the Equipment Dialog
There are some extra tabs within the Equipment dialog that help organize data related to Equipment records.
The Custom tab contains extra fields available in text, date, number, and checkbox format to easily rename and use for whatever needed.
The Image tab allows you to select one main image that represents that specific Equipment record.
The Overrides tab contains the selections for optional label and report overrides. Default labels and reports are defined at a global (application) level in the Options dialog, while the override selections for Labels and Reports applies for this specific Equipment record.
The Meta tab is a READ-ONLY information tab used as a reference to view which user created the record and which user was the last to edit it, including the dates and times these occurred.