Options - Security
Modify Calibration Control's advanced Security settings in the Options dialog. Activate User Authentication (sign-in mode) with a click of a button, disable specific CC Terminal features, and more.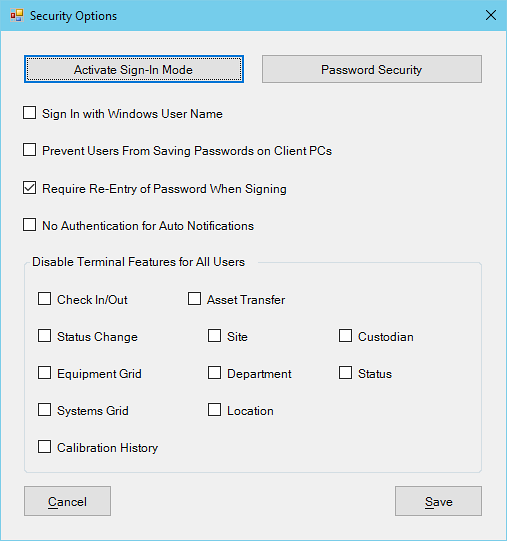 Activate Sign-In Mode: Enable or disable the User Authentication Mode (Sign-In Mode). At least one User must have Admin privileges to Enable User Authentication and only an Administrator can disable User Authentication.
Password Security: Edit user password rules for strength and expiration settings.
Sign In with Windows User Name: For ease of use, set up users to sign in Calibration Control with their Windows account, then check this setting.
Prevent Users From Saving Passwords on Client PCs: When the Authentication mode (sign-in) is enabled and a User signs in, they are given the option of saving their User Name and Password for future automatic sign-ins. Checking THIS option prevents the ability to bypass entering their sign-in credentials each time.
Require Re-Entry of Password When Signing: Requires the user to enter their sign-in password again in order to successfully sign (approve and lock) records of calibrations.
No Authentication for Auto-Notifications: Allows email notifications to be sent without prompting the user sign-in authentication dialog (if the program is not open).
Disable Terminal Features for All Users
The CC Terminal Mode has limited features for minor changes made by Terminal Users. Choose which of the CC Terminal features are disabled:
Last Updated: 21 March 2022