Equipment Systems
Groups of Equipment Records
Combine separate equipment records in Calibration Control (our Calibration Management Software) into a group (system) for any purpose, such as creating a single test system.
View Systems Grid
Select the Systems feature from the Calibration tab of the menu ribbon.

Equipment System Dialog
From the Systems grid, double-click to open a record or right-click to use the context menu. Use the Equipment System dialog to enter and edit information related to Equipment Systems.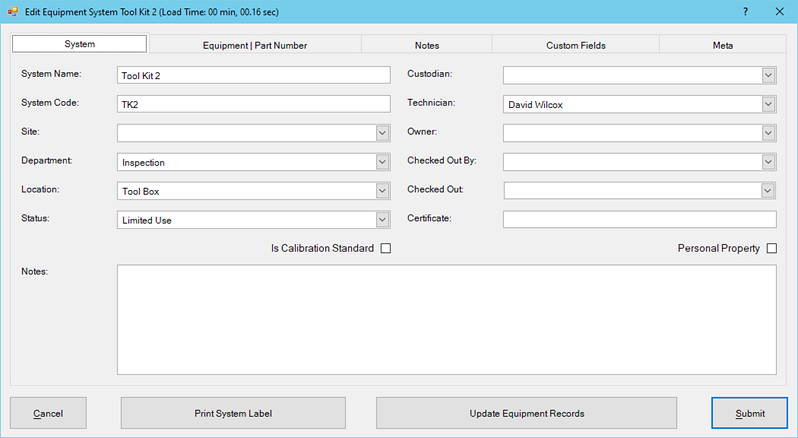 Name: Name of the System. This is the only required field for a new Systems record.
Site: Company field for geographic Site or Company.
Department: The department in your organization where the System is currently located.
Location: The location within the department where the System can be found. This could be a specific area or work place, even an engineer's desk.
Custodian: Select an individual who has possession or custody of a System.
Certificate: Certificate number that was issued by the organization responsible for its last Calibration event. Primarily used as an aid for traceability back to a national measurement standard, especially if this System is a Calibration/Test Standard.
Personal Property checkbox: Check this box if the equipment System is owned by an individual at the company.
Technician: The person who normally calibrates this System.
Owner: The System Owner (Person field), if not the company.
Status: Select the system's current Status from the combo box.
Notes: Add notes to a System record.
Notes Tab
Add and link Notes related to an Equipment System record.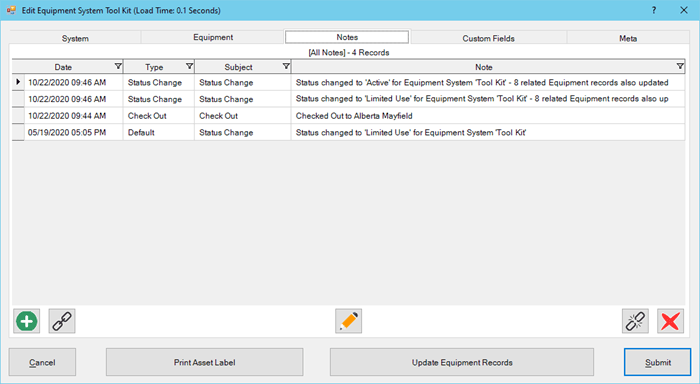 Custom Fields Tab
Custom fields are available for adding Characters, Dates, Numbers, and Check boxes. Visit the Change Field Names help topic to learn how to edit these fields.
Meta Tab
This is a READ-ONLY information tab used as a reference to view which user created the record and which user was the last to edit it, including the dates and times these occurred.
Link Equipment
To link an existing Equipment record to an Equipment System, select the Other tab in the Equipment dialog. Use the drop-down arrow to select which System this Equipment belongs to. All Equipment Systems will be listed in the combo box.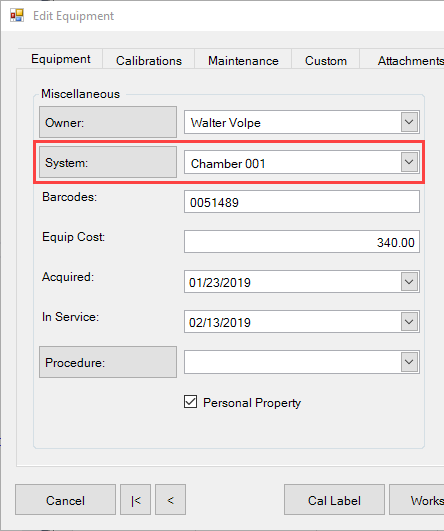 Mass Update Function
When editing fields in the System dialog, select the [Update Equipment Records] button to apply changes to the Equipment tied to the System.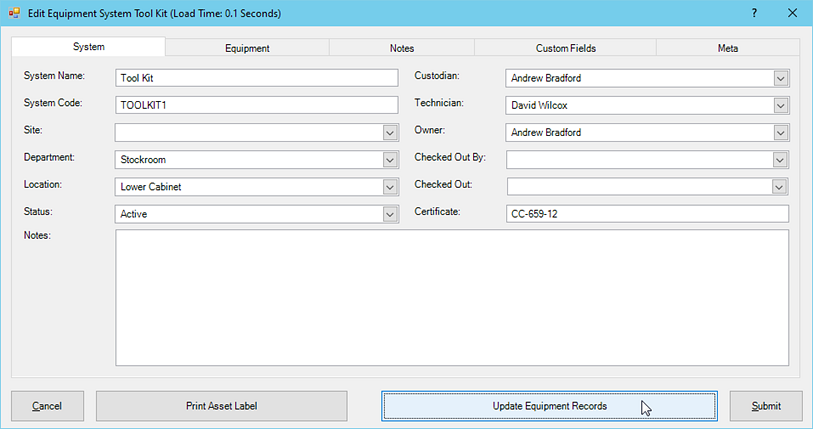 From the pop-up dialog, confirm which fields to update for all linked Equipment.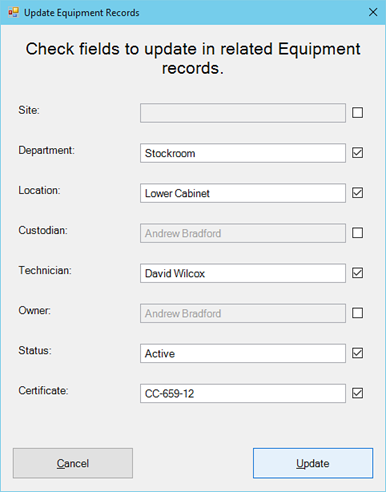 Barcode labels of Systems may also be scanned for Check Out.
Default System labels are configured in program Options.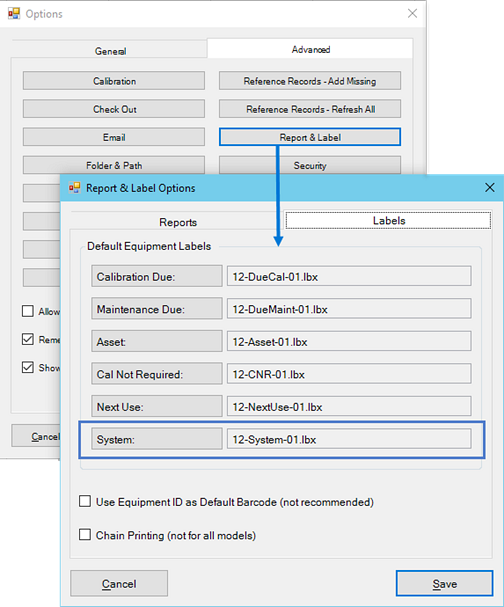 Last Updated: 14 August 2019