Attachments
Learn below how to create Attachment records, link any Attachments to several data records, and how these links can function in Calibration Control (our Calibration Management Software).
Add Attachments to Equipment and Calibration Records
Add attachments to an Equipment record by double-clicking on a record and navigating to the 'Attachments | Documents | Notes |Parts' tab, where you will find the [Attachments] panel grid. Use this panel grid like you would any other grid: Add, Link, Edit, Unlink, or Delete attachments. To add a new attachment click on the green [+] button and choose whether to add a File, Link to File, add a Folder path, or a URL path.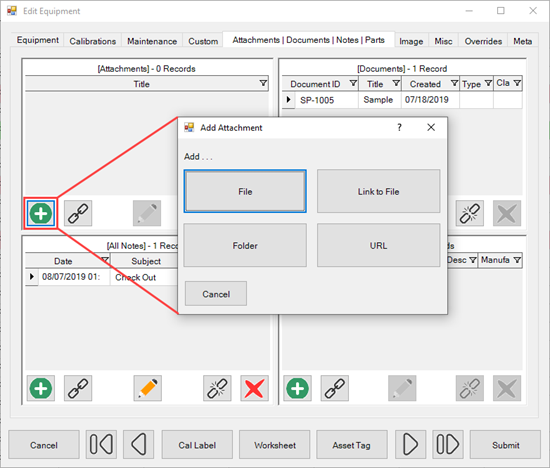 Add File, Link to File, Folder or URL
[Add File] means a copy of the attachment will be made and saved in the Attachments folder (located in the Files Folder). The [Link to File] selection means the file being attached will stay at its current location and a link to that location will be saved in the database. Adding a link to a specific folder is helpful if more than one file is being attached. The [Add Folder] and [Add URL] buttons allow a user to copy and paste a path to a specific folder (directory) or website.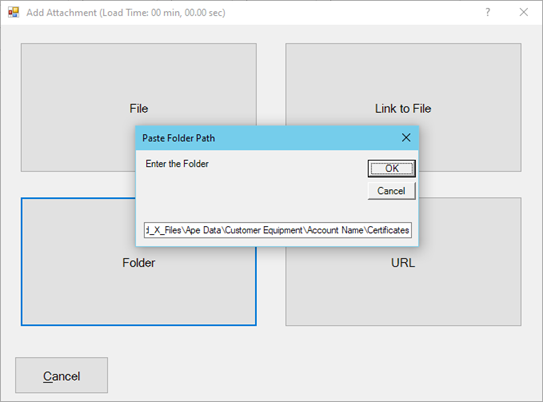 Edit Attachment
Within an Equipment record or in the Attachments grid, you can double-click on an attachment to edit the record and add information related to it such as title, category, owner (if the image is of a piece of equipment), and a description.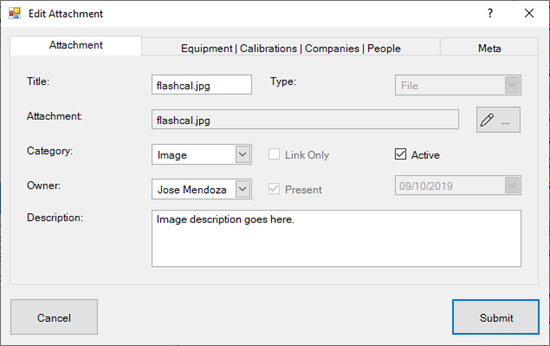 In the Equipment |Calibrations | Companies | People tab, you can view all records linked to the attachment. You can also add, link, and unlink records to the attachment. Similarly, in the Models tab, you can add, link, and unlink Model records to the attachment.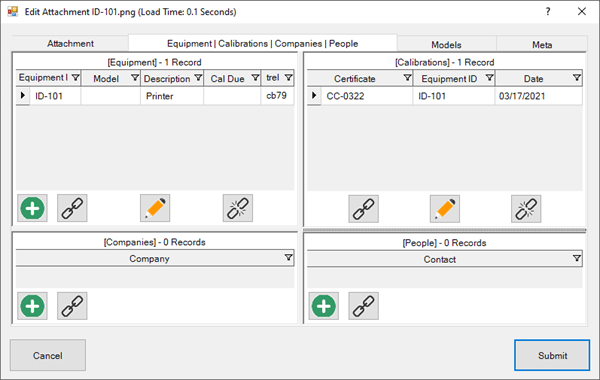 Attachments Grid
The Attachments grid, located in the Data Grids tab of Calibration Control, displays all attachment records information such as file name, size, title, description, etc.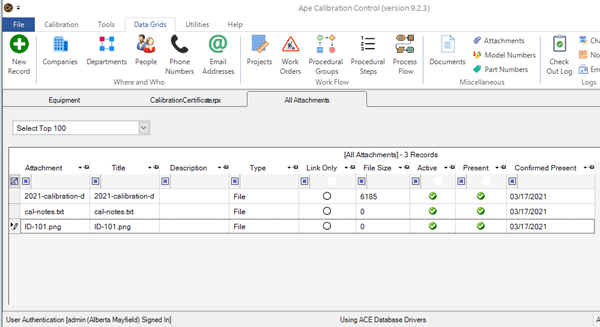 Right click anywhere on the grid to open the context menu and click Verify All Attachments Exist. If the Attachments were verified, a green checkmark will appear under the Present column along with the Confirmed Present date. If an attachment was not verified, it likely was moved to a different location, renamed, or is otherwise not accessible to Calibration Control. If all attachments were not confirmed present, your Files Folder was likely changed but your Attachments folder was not moved to the new location. When an attachment is verified to be present, you can quickly open the attachment file itself by right clicking a record and select Open Attachment.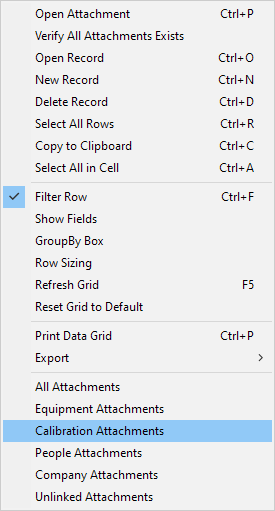 Additionally, in the Attachments context menu, you can select different views of the Attachments such as all attachments, attachments linked to Equipment, Calibrations, People, Companies, or attachments not linked to anything.
Image in Equipment Dialog
To add a default image for an equipment record, click on the [Image] tab within a selected Edit Equipment dialog. If no image is linked, you'll see a message "Right-click, Double-click or Drag & Drop to Link an Image." Double clicking will open a grid of existing attachments that are image files. Alternatively, you can drag and drop any image file and Calibration Control will create an Attachment record for that image and link to the Equipment record. Once you have an image linked, you can right-click to open the image, unlink the existing image or link a different an existing image.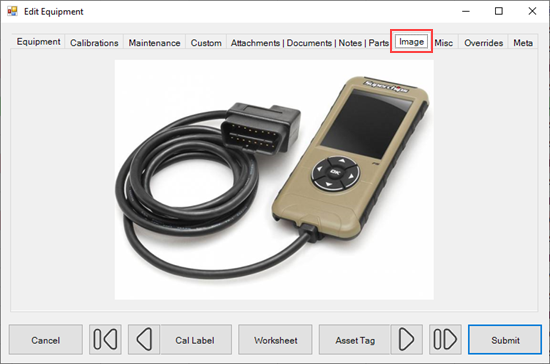 Quick Start Video
The YouTube video link below shows how to use this feature in an older version of Calibration Control. While the software appearance may differ, the how-to concept remains similar for how to use the Attachments function in Calibration Control (our Calibration Management Software).