Documents Dialog
Procedures Are Now Known as Documents
Easily link company Documents (e.g., Calibration Procedures) and related Equipment in Calibration Control (our Calibration Management Software). Find the Documents icon under the Data Grids tab of the ribbon menu.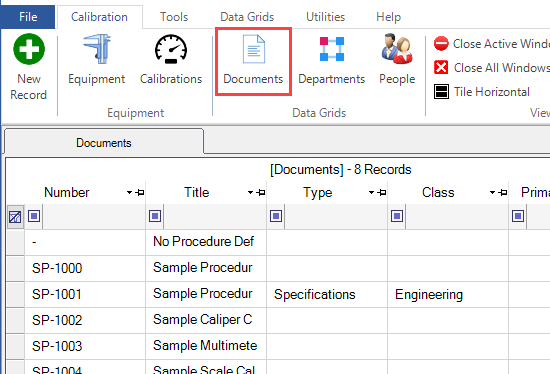 Edit Document Dialog
Double-click on a Document record to open and edit it. The Edit Document dialog contains 4 tabs:
Document: Add information related to the Document including its number, title, active status, type, class, subject, Document URL, and a space for notes. Click on any of the grey shaded boxes to add a new field for that drop-down.
Equipment/Calibrations Panel Grids: Use the panel grids for adding and linking equipment and calibrations to a Document record. These panel grids can be filtered and sorted using the Filter Row at the top of each grid.
Custom Tab: Visit the Change Field Names help topic to learn how to customize this tab for your company's needs.
Meta Tab: This is a READ-ONLY information tab used as a reference to view which user created the record and which user was the last to edit it.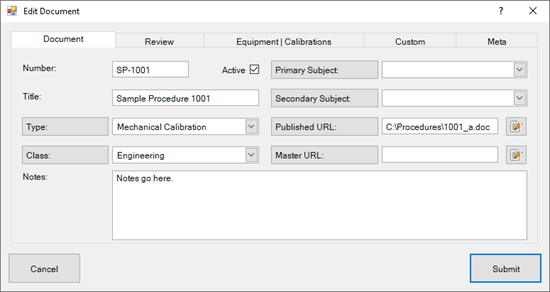 Link Documents to Equipment Records
From the Documents Grid: Within the Grids tab of the Document dialog click on the 'chain link' icon to link a specific piece of equipment to that Document.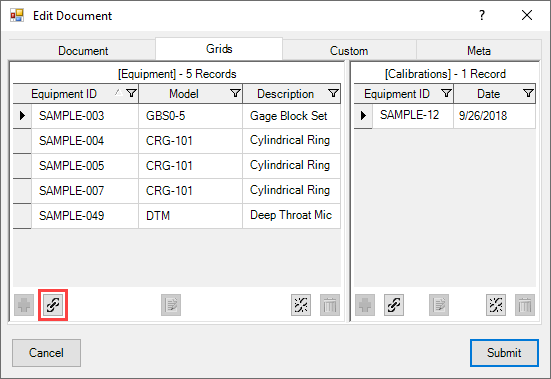 From the Equipment Grid: Within the Grids tab of the Edit Equipment ID dialog click on the 'chain link' icon within the Documents panel grid.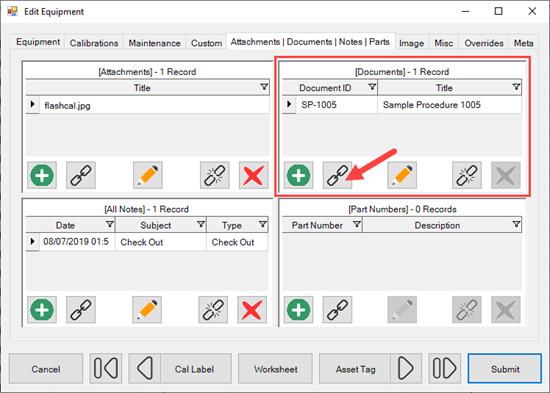 Link an existing Document or Equipment ID by highlighting its row and clicking the [Select] button.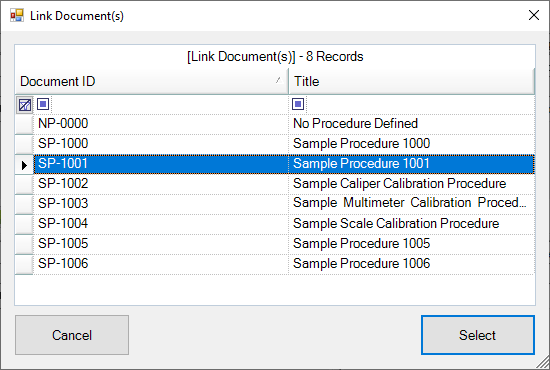 Last Updated: 19 September 2019